Sweet Broken Candy Glass Recipe
This sweet treat is great to make around Christmas time and is perfect for gifts for friends or family.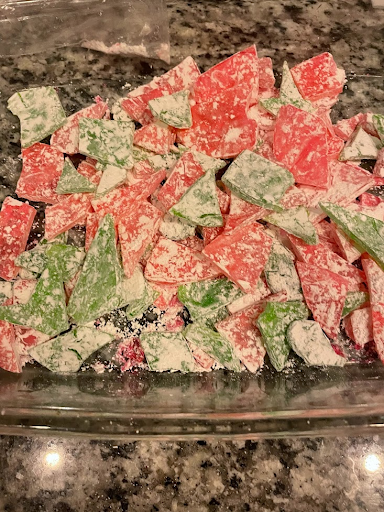 Broken glass candy is a type of hard candy that can come in all different shapes, colors, and sizes. This candy is overall perfect if you're craving something sweet and tasty.
Ingredients:
½ water

¾ cup light corn syrup

2 cups granulated sugar

2 – 4 tsp. flavoring extract

½ tsp. gel food coloring
Instructions:
Start by getting out two pans and placing aluminum foil in each. Make sure to either spread butter or use non-stick spray on both pans.

Pour water, corn syrup, and granulated sugar into a pot. Stir until all sugar is dissolved.

Keep stirring until the mixture boils, then place a candy thermometer in the pot and stir regularly until the candy thermometer reads 300 degrees.

Remove the thermometer and move the pan away from heat and let sit until the bubbling has stopped.

If you want, you can divide the mixture evenly into multiple different pots. This will allow you to have different colors of your broken glass candy.

Quickly put in your food coloring in either your bowl or bowls.

Pour mixture onto your pan or pan and let cool at room temperature for 2 hours.

Carefully remove hard candy from foil and using a butter knife, crack into shards of glass-like candy.

Put candy shards into a bag of powdered sugar and shake until all shards are covered.

Serve and enjoy!