The Value of Volunteering
Community service is an amazing activity to do, and Horizon Honors provides many opportunities for it.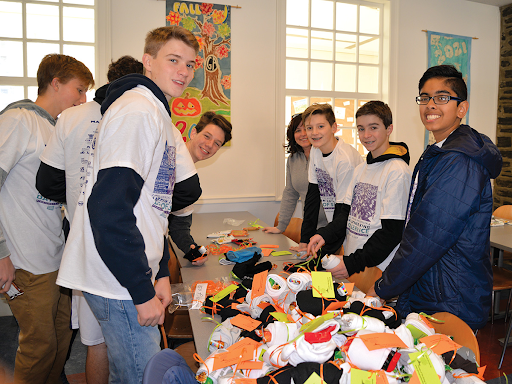 Prep Scholar explains that unpaid work done for the benefit of others by an individual or a group of individuals is referred to as community service. Because it's frequently done close to your home, your actions will benefit your own community. Each school year, Horizon Honors high school students must complete 40 hours of community service. Starting a recycling program, volunteering at a soup kitchen, or assisting the homeless are all examples of community service projects. Not only does community service assist society, but it also benefits you.
Volunteering greatly helps the community around us. Do Something explains that community service helps protect public land. By planting trees, picking up trash, and donating your time to volunteering, you can help the environment around you. Volunteering also can help decrease homelessness. By volunteering at a soup kitchen, or donating necessities, you can vastly help others in need. Track It Forward shows that volunteering and connecting with your community has decreased the mortality rate by 2.7%.
Community service can be beneficial to yourself. Volunteering increases self-confidence, says WCSU. This is because you are assisting the community and feeling accomplished. You will feel better about yourself and your community if you feel that you are making a difference. According to WCSU, acts of compassion and community service can also aid in the treatment of depression. Volunteering allows you to maintain regular contact with others, which aids in the development of a strong support system. Some volunteering also brings the chance to work with animals, which can give you peace. Students can benefit from community service in a variety of ways. You have a beneficial impact on society and others, as well as gaining valuable life skills and information, explains FNU. Volunteering in the community may also improve your chances of getting into a college or university. It shows your respect for your community and your willingness to serve, reveals College Vine.
At Horizon Honors, the Student Council, National Junior Honor Society, National Honor Society, Key Club and athletic teams organize community service projects. Horizon Honors's website explains that People Helping people, Take it Outside, Medical, Get Moving, The Arts and Museums, Animal Activities, and Volunteer Clearinghouses are some of the community service opportunities available. These are fantastic chances to get involved in community service. You may choose to volunteer at the Phoenix Children's Hospital, the Arizona Humane Society, or another organization, too; each of these options brings you closer to helping our community. Check the Horizon website's EBlasts for more community service options as they arise. Visit the websites of community service groups to volunteer on your own time.
Volunteering and community service are excellent ways to give back to yourself and your community. Horizon Honors provides many opportunities to get involved and help others, and its promotion of community service means the betterment of students' lives and communities. If you are looking for community service opportunities, go to the Community Service page on the school website.