A Shine From Our Olympians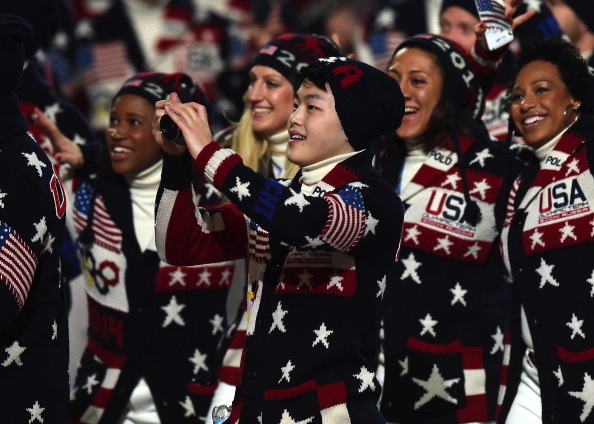 This once in a lifetime event – the Winter Olympics – is happening for the twenty second time in Sochi, Russia from Thursday, Feb. 6, to Sunday, Feb. 23. Featuring over 20 events, 88 countries, and over 2,800 athletes, these games are something you can't miss. Although the United States has done better in Summer Olympics, the nation currently has a total of 12 medals – four gold, two silver, and six bronze.
Sage Kotsenburg earned the United States first gold medal in snowboarding slopestyle. He had scores of 93.50 and 83.25, while other competitors would get scores in the high 80s and some even being in the 30s. Displaying remarkable talent, Kotsenburg invented a one-of-a-kind trick called the '1620 Japan Air Grab,' in which he made four and a half rotations mid-air and grabbed the back of his board. Kotsenburg placed first in both semifinals and finals.
The United States seems to have a great ability in slopestyle, because Jamie Anderson brought home another gold for the women's slopestyle. With a score of 95.25, Anderson showed ability to recover after an average run of 80.75. The United States has a full sweep of the snowboard slopestyle.
The third gold medal was from Kaitlyn Farrington on the snowboard halfpipe. Ferrington shared the victory with bronze medalist and teammate Kelly Clark. It was a successful victory for both considering the trouble with the halfpipe before the competition.
The fourth gold medal was from the men's' ski slopestyle. Joss Christensen's gold medal victory was shared with Gus Kenworthy in second and Nicholas Goepper with the bronze.
The one silver medal from ski slopestyle from Devin Logan, who was sandwiched between Canadians Dara Howell, gold, and Kim Lamarre, bronze. Logan with a score of 85.40 compared to gold medalist Howell with 94.20 and Lamarre with 85.00. In women's moguls, Hannah Kearney regretfully ended what was supposed to be her last Olympics with a bronze medal due to a rough run in the finals. She lost to Canadian sisters Justine and Chloe Dufour-Lapointe respectively.
The final three bronze medals were from the luge, figure skating, and alpine skiing. Erin Hamlin won bronze in the womens' single for the luge, losing to Germans Natalie Geisenberger and Tatjana Hüfner. The United States figure skating team won the bronze with a score of sixty combined from the following sports: pair short dance, men short dance, short dance, ladies short dance, pair free dance, men free dance, free dance, and ladies free dance. Finally, Julia Mancuso won the bronze in alpine skiing ladies' super combined when Lara Gut from Switzerland was disqualified for being unable to complete the second part of the competition.
The United States in fifth has done fairly well competing with the talented nations of Norway in first with seven gold medals, Canada in second, the Netherlands in third, and Germany in fourth. Behind by three gold medals and with over week until closing ceremonies, the United States still has a chance at comeback.