History of LGBTQ+ Activism
Throughout history, members of the LGBTQ+ community have fought for their rights with movements, rallies, and protests.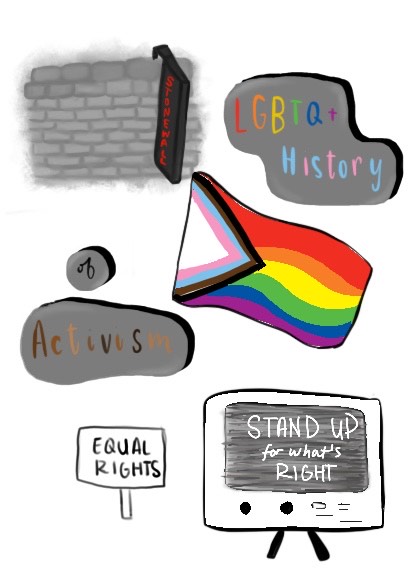 There are many moments in history involving minority groups that aren't well known. One of these minority groups is the LGBTQ+ community. This community has fought for their rights and for their lives. They have fought for freedom. Movements and activists have helped the LGBTQ+ community gain civil rights.
Movements are vital in advancing LBGTQ+ rights. PBS states that Daughters of Bilitis became the first lesbian rights organization and hosted social functions, providing an alternative to lesbian bars and clubs, which were often raided by the police. The Mattachine Society staged a "sip-in" at the Julius Bar in Greenwich Village. Perhaps the most well-known moment in the history of LGBTQ+ rights was on June 28, 1969, when there was a three-day riot at Stonewall Inn in Greenwich Village. There were thousands of protestors but minimal news coverage of the event. Christopher St. Liberation Day was the one-year anniversary of the Stonewall riots. The first year this happened is considered America's first pride parade. On Oct. 14, 1979, about 75,000 people participated in the National March on Washington for Lesbian and Gay Rights to demand equal rights and ask that the government passes civil rights legislation.
There are many activists who helped advance LGBTQ+ rights. One of these people is Bayard Rustin. According to Reader's Digest, he was an activist for both Black civil rights and LGBTQ+ rights. He was an adviser to Martin Luther King Jr. Harvey Milk was the first openly gay official elected in California and passed legislation that protected people from being fired because of their sexual orientation. He also encouraged people to come out as a political move. Audre Lorde was an activist for the womens' rights, black civil rights, and LGBTQ+ rights movements. She helped bring people of color into the fight for womens' rights. Larry Kramer co-founded the Gay Men's Health Crisis and ACT UP, which helped support people with HIV and AIDs and spread awareness of these diseases. He also wrote and co-produced "Women in Love" and wrote an autobiographical play, "The Normal Heart" which focused on AIDs. Billie Jean King was one of the first national sports players to be openly gay, though she lost all her endorsements for this. She led the way for her fellow sports players to come out. There are many other activists that Reader's Digest has information on.
LGBTQ+ history is extensive and also important. Besides the sources previously mentioned, there are many sources to learn more about LGBTQ+ rights and important movements through history. Some sources include LGBTQ History, which provides a timeline of LGBTQ+ history; Smithsonian, which shows female activists fighting for these rights; and Brookings, which exemplifies POC activists. Some overarching resources are GLSEN and The Trevor Project, both of which have a feature on their site where people can exit the site by clicking the ESC key three times on their keyboard. It is important to learn about LGBTQ+ history and fight for equal rights, even when it's not Pride Month.