The Phoenix Zoo: A Good Destination?
The Phoenix Zoo has been a popular destination for Arizonans since it opened in 1962.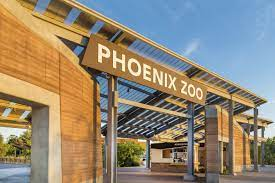 The Phoenix Zoo is located in Phoenix, Arizona, and has been open to the public since Nov. 12, 1962. It has changed a lot since then, from opening up new and larger enclosures for animals such as orangutans and elephants to planting more trees and foliage to improve the overall look and environment of the zoo for both animals and visitors. However, for as many good things as zoos are known for, such as rehabilitation and conservation efforts, there are also several critiques of the zoo's treatment of its animals. Among a few of these complaints have been small animal enclosures and failing to provide the basic necessities to many animals food-wise. The Phoenix Zoo, while having its fair share of critics over the years, according to Trip Advisor, is a safe and healthy place for all of its 3,000 animals, with spacious enclosures and important conservation activities that make it both an enjoyable place to live in and visit. This beloved city institution deserves its prominence.
The Phoenix Zoo has grown exponentially in several ways since it first opened in 1962. The central thing that has helped the zoo to grow has been to gradually lean more into conservation efforts. According to the Phoenix Zoo's website, since 1965 the Phoenix Zoo has gradually become more invested in its community and in bettering Arizona's ecosystem by making conservation a central part of their mission. They have done this by sponsoring multiple wildlife events around the state and becoming more involved with the next generation through creating a "Zoo Lab" that works with several Kyrene schools around the Valley. This program helps to inform kids about what it means to work in conservation.
The zoo takes pride in providing a healthy environment for all their creatures, and its mission statement highlights that  "Arizona Center for Nature Conservation advances the stewardship and conservation of animals and their habitats while providing experiences that inspire people and motivate them to care for the natural world." Since this shift, the zoo has undergone many changes for the better, including adding over 125 animals since its opening and working with nature specialists to customize animals' habitats to better meet their needs.
The increase in community involvement led to many positive changes for the zoo, all of which have made it a comfortable and safe environment for both people and animals. It is no doubt a hospitable place and a true gem of Arizonian wildlife that is a pleasure to visit. If you have never been, it is well worth a visit.